Ready for some Statistics?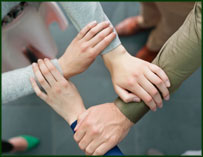 Orange County is one of the wealthiest places on Earth. Its economy is the size of Israel or Malaysia. According to FEMA, nearly half a million people are one paycheck away from being homeless. This includes approximately an estimated 18,000 to 40,000 families, over 35,000 homeless people in OC. Of these, 7,000 are children, 2,000 are veterans, and 4,000 are of retirement age. (OC Register 2005) We get in contact with the people we serve in various ways. Check out our Outreach Page to read about MiCafé our most popular outreach project.
How We Do What We Do
MW engages each client with the intent of being as comprehensive as possible in meeting the needs of that client as holistically as possible. Ours is a unique charity in that we deal with the myriad of issues that accompany each new case, unlike many charities that tend to focus on specific areas of concern. As a result, MW often receives referrals from other charities that see value in our approach. We attempt to assist all who come to us solve those problems that we can and help them rejoin society as contributors to, rather than just consumers of, life's abundance.
Our plan and process is simple. Each family or individual who comes to us meets with a counselor who follows the procedure that has been developed over the years:
- Assessment in the form of an intake interview
- Development of a basic plan as a starting point
- Review of progress after 2-3 weeks
- Redesign of the basic plan as needed into an extended plan
- Periodic review of progress
- Completion assessment and documentation
- Long term assistance as needed and requested
Sometimes our progress is slow, tedious, and demands a patience that can frustrate even the most patient, but success depends not only on the clients working hard on life repair issues, but on the continued long term efforts of the volunteers at MW as well .
Obviously, there is some difficulty in determining the degree to which we are absolutely successful, but the number of clients who return to volunteer to assist newer clients would suggest that we are having positive impact on the lives of many.